Ready to invite new energy every that inspires + elevates your spiritual journey?
YES!! You deserve it! 
SAGED & STONED is our monthly subscription for the mystically minded!
We have THREE subscription options!
Select your subscription:
1- Our Tee/Tank Subscription! Each month will include an exclusive Picasso Jasper designed Tee or Tank.
2- Our monthly cleansing tool subscription! Each month we'll send Sage (or cleansing tool) or
3- Our original Saged & Stoned Ritual Bundle! this one includes all of the above + Crystal, Mantra & Ritual Cards.
Add an accessory too! These Tees/Tanks are designed just for our subscribers! 
WHAT'S IN EACH SUBSCRIPTION?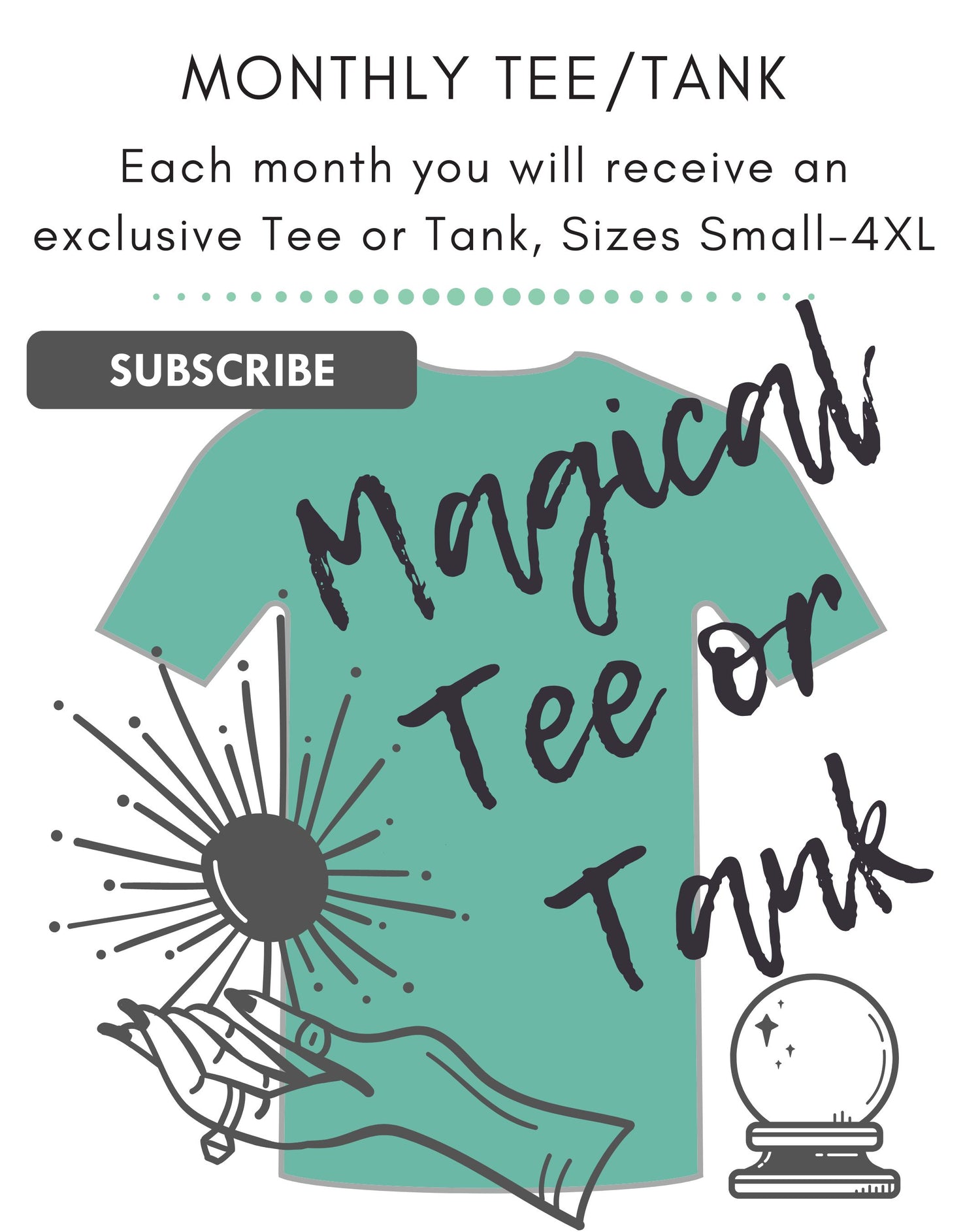 Receive our Monthly Tee/Tank!
Refresh your closet with an exclusive tee or tank shipped for free every month. We'll design & print a high-vibrational message, on the softest garments, just for you! ! Sizes S-4XL.
JOIN our monthly tee club here!
Receive Monthly Cleansing Tools!
Each month you will receive new cleansing tools like sage, oils, crystals & more, shipped for free! Perfect to cleanse your mind, body & energy. Keep or gift!
JOIN our monthly cleansing tool club here!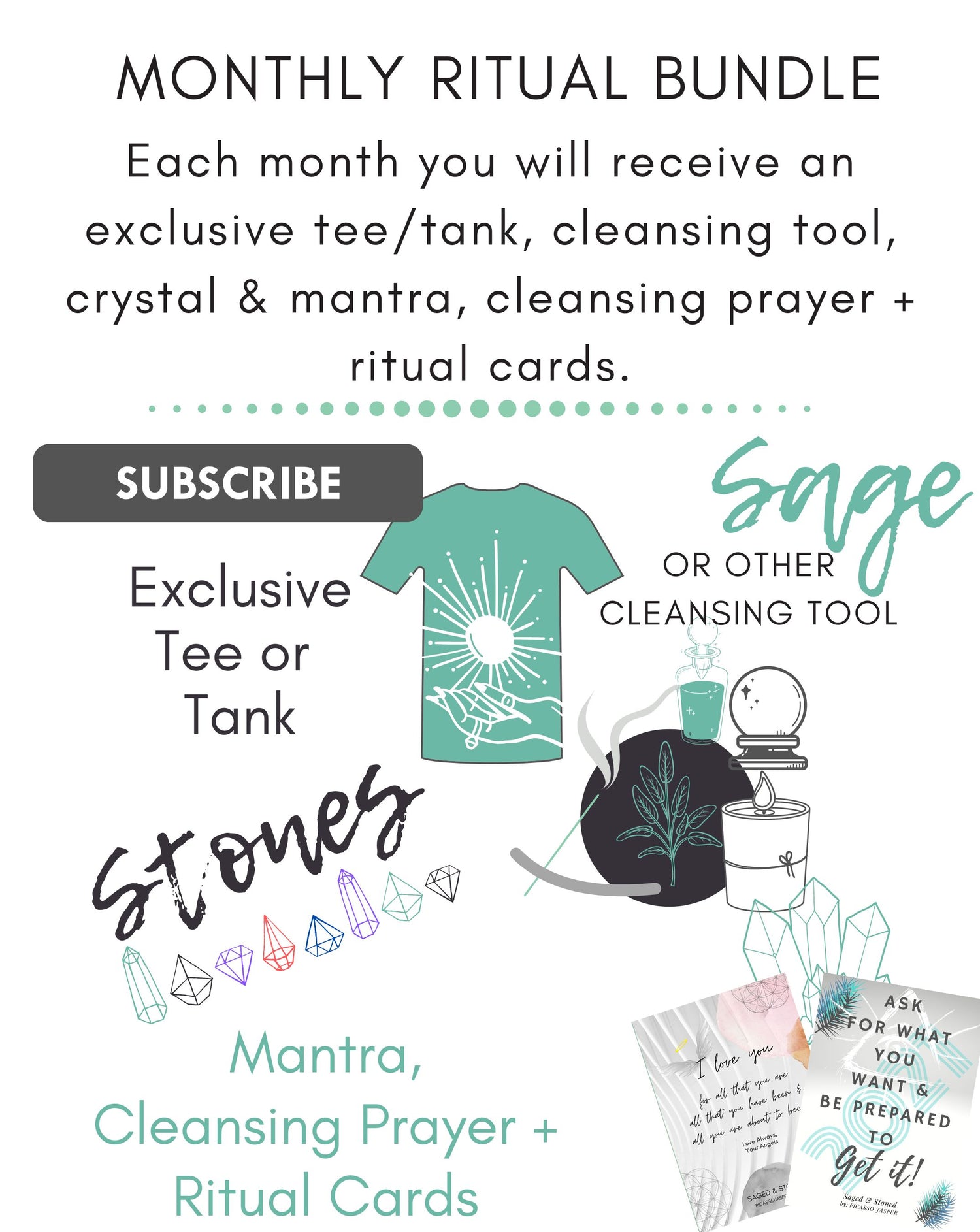 SAGED & STONED Monthly Ritual Bundle!
This is our signature & original ritual bundle! Each month you will receive all of the above + mantra & ritual cards. This is for you if you are ready to commit to starting or elevating your spiritual journey, enjoy learning about new cleansing tools + rituals & crystals or ready to practice more self care.
JOIN SAGED & STONED MONTHLY RITUAL HERE!
FAQS
Each month, you'll receive your subscription. 1- an exclusive designed tee + sage 2- a cleansing tool or 3- All of the above + crystal, mantra & ritual cards ($60+ Value). 
When am I charged? When does it ship?
Sign up before the 7th of the month to guarantee that month's subscription. Credit cards will be charged on the day of your first purchase and then the 7th of each month. Your box will ship around the 15th of the month! If you sign up after the 7th, you may have to wait for next month's box.
Example: Your first purchase is Jan 1st- you will receive Jan's subscription & your next charge will be Feb 7th- Feb's subscription will ship around the 15th-ish. Make sense?
Please Note: If you receive our cleansing or ritual bundle subscription, you will not receive SAGE every. single. month. That's a lot of SAGE! We mix it up with different "cleansing tools". We hope this introduces you to new ways to cleanse your mind, body & soul. Our items are made by us, carefully curated using local artisans, Etsy artisans and even our own subscribers! It is important to us to support other small businesses. Always ready to partner with like minded souls! If you would like your product to be considered, send me an email! smile@picassojasper.com
Is there a minimum to join?
Nope! PS: We have a 14 day cancellation policy. Because we need time to create the magic just for you, we ask that you let us know within 14 days of the subscription renewal. If it is within 14 days of the 7th of each month, your cancellation will take effect the following month. For example- canceling on Jan 15th means your subscription is canceled right away. Canceling Jan 1st- means your last subscription will renew on Jan 7th/Ships Jan 15th & you will not receive future months. Make sense?
Need to update your subscription? CLICK HERE!
Are your tee's/tank's True to size?
Yes! We offer size S-XXXXL, if you are in-between sizes or would like more room, please size up. *Note- sometimes, depending on availability- some sizes may have a different color and/or style of tee/tank.

Can I use a coupon?
Sorry! Our subscriptions are already a steal AND includes free shipping! Coupon codes do not work for subscriptions- but that gives a reason to snag something else!
Can I tell a friend?
PLEASE!!! We would love you forever and ever- on a cellular level! PS-> Have you seen our Brand Rep program? 
Already a Subscriber & need to manage your subscription?
Go here! or email us! smile@picassojasper.com